By Dr. Griffith
December 10, 2021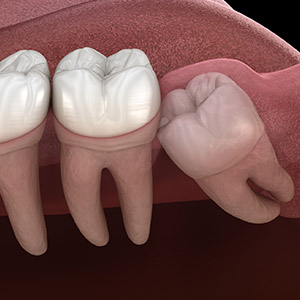 If you're of a certain age, there's a good chance you've had your third molars—wisdom teeth—removed. At one time, extracting these particular teeth was a common practice, even if they hadn't shown any signs or symptoms of disease or dysfunction. But now, if you have a son or daughter coming of age, your dentist may recommend leaving theirs right where they are.
So, what's changed?
Wisdom teeth have longed been viewed as problematic. As the last of the permanent teeth, they often erupt on a jaw already crowded with other teeth. This can cause them to come in out of position—or not at all, remaining partially or totally submerged (impacted) beneath the gums.
Misaligned teeth are more difficult to keep clean of bacterial plaque, which in turn raises the risk of tooth decay or gum disease. Impacted teeth can put pressure on the roots of neighboring teeth, which further increases the risk for disease or bite problems.
To avoid these common problems associated with wisdom teeth, dentists often remove them as a preemptive measure. Given their size and possible root complexity, this is no small matter: Removing them usually requires oral surgery, making wisdom teeth extraction one of the top oral surgical procedures performed each year.
Today, however, many dentists are taking a more nuanced approach to wisdom teeth. While they still recommend removal for those displaying signs of disease or other problems, they may advise leaving them in place if the teeth are healthy, not interfering with their neighbors, and not affecting bite development.
That's not necessarily a final decision, especially with younger patients. The dentist will continue to monitor the wisdom teeth for any emerging disease or problems, and may put extraction back on the table if the situation merits it.
The key is to consider each patient and their dental needs regarding wisdom teeth on an individual basis. If warranted, removing the wisdom teeth may still be warranted if will help prevent disease, keep bite development on track and optimize oral health overall.
If you would like more information on wisdom teeth, please contact us or schedule an appointment for a consultation. You can also learn more about this topic by reading the Dear Doctor magazine article "Wisdom Teeth: Coming of Age May Come With a Dilemma."
This website includes materials that are protected by copyright, or other proprietary rights. Transmission or reproduction of protected items beyond that allowed by fair use, as defined in the copyright laws, requires the written permission of the copyright owners.
Office Hours

| | |
| --- | --- |
| Monday: | 8:00 AM - 4:00 PM |
| Tuesday: | 8:00 AM - 4:00 PM |
| Wednesday: | 8:00 AM - 4:00 PM |
| Thursday: | 8:00 AM - 4:00 PM |
| Friday: | Closed |
| Saturday: | Closed |
| Sunday: | Closed |